Growth
without the growing pains
---
The Scalable Path community of over 6,800 talented Developers, Designers and Project Leaders are helping build world class products.
Featured Freelancers
---
We only work with exceptional talent. Every individual is thoroughly vetted before working on our clients' projects.
Areas of Expertise
---
You can also search our community of talented Developers and Designers by their Area of Expertise.
How are we different?
We're big believers in quality over quantity. So we personally speak to every candidate to ensure they are a great cultural and technical fit. That's just the start of what makes Scalable Path a better option for your business.
Find out more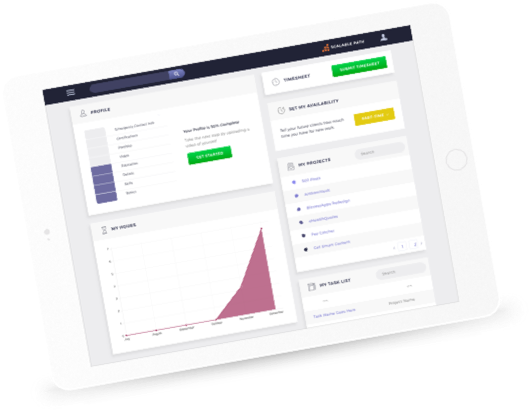 Featured team leaders
---
Our leaders put the right talent, tools and processes in place to make sure your project delivers on time and on budget.
Client testimonials
---
"Daniel's skills and attitude have been such a great fit for the organization. He immediately felt like part of the team."
Justin Knecht
Executive Director, Product Experience
Luma Institute
"Nacho brings top-notch coding and leadership that allowed us to improve our development processes."
Brian SpitzCoFounder, StoryFire
"Julian hit the ground running with our Rails app. After working together for a couple of months and establishing trust, we've even involved him with production support. He's been a solid asset to the team."
Jason van den BrandCEO, Lenda
Meet the scalable path community
---
With over 6,800 talented freelancers onboard, we have a lot to say. Keep up to date with industry news and trends here.