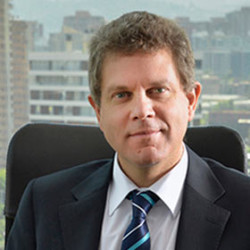 Skills
Top areas of expertise
Top Three Areas of Expertise
---
Specific Skills
5 = Master, 4 = Expert, 3 = Proficient, 2 = Familiar, 1 = Beginner
Other Skills
Python, Hadoop Hive
Education
Universidad de Chile
1983 - 1988
Degree Bachelor's Degree in Mathematics
The syllabus covers calculus, algebra, analysis, linear algebra, group theory, rings, fields, dynamic systems, probability and complex variables.
---
University of London / London School of Economics
2006 - 2012
Degree Diploma for Graduates in Economics
The Diploma for Graduates degree is designed for people who already have a university degree and is at the same level as a Bachelor's degree in the UK National Qualifications Framework. The syllabus covers microeconomics, macroeconomics and econometrics.
---
Johns Hopkins University
2014 - 2016
Degree Specialization in Data Science
Online specialization program in data science, given by Johns Hopkins University through Coursera. The program consists of 10 courses that cover the R programming language, data cleaning, statistical inference, linear regression, machine learning and natural language processing.
---