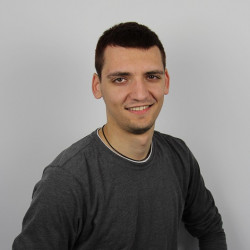 Skills
Top areas of expertise
Top Three Areas of Expertise
---
Specific Skills
5 = Master, 4 = Expert, 3 = Proficient, 2 = Familiar, 1 = Beginner
Other Skills
Education
University of Zagreb
2011 - 2016
Degree Masters
Software development is studied in a systematic, controllable and efficient way. The program focuses on the analysis and evaluation, specification, design and development of software products. Students will learn about project management, quality assurance processes and standardization. They will be encouraged to work in teams and to express their creativity.
Information systems are focused on using computer hardware, communication and software technology to fulfil the needs of information and to advance almost every aspect of human activities.
Technical, mathematical and other interdisciplinary knowledge is applied to analysis and restructuring of systems that include a human being as a user and a key subject. Such systems might be business systems, production or governmental systems. Complex software systems are designed, developed and implemented to serve as the basis of all the activities within the enterprises and to enhance their competitiveness.
---